Disclosure: Your support helps keep the site running! Some of the books or products we recommend contain affiliate links. Learn more.
When it comes to reading, having the appropriate book light may make all the difference. A decent book light should be bright enough to read the text on the page without straining your eyes, but it should also be portable and simple to operate. With so many book lights on the market for grown ups, or kids, it might be difficult to choose which one is ideal for you.
That's why we've put together this buying guide for the finest book light. We'll discuss the characteristics you should look for, like brightness settings, battery life, weight, and more, to help you select the best book light for your reading needs.
Tips and thinks to look for
Determine your needs: Consider when and where you will use your book light. Do you need a light that is bright enough for reading in a poorly lit room, or one that is more ideal for bedtime reading? Do you require a portable light to carry with you when you travel? Knowing your requirements can help you limit down your alternatives and select the ideal book light for your reading habits.
Consider the sort of light: There are several varieties of book lights, including clip-on lights, standing lights, and neck lights. Each type has its own set of advantages and disadvantages, so think about which one will work best for you.
Look for a book light with adjustable brightness settings so you can adapt the amount of light you need for different reading circumstances and preferences. This can help avoid eye strain and make reading more comfortable.
Check the battery life: Make sure the book light has a long battery life, especially if you plan on using it for longer periods of time or carrying it with you when you travel. Consider whether the light uses replaceable batteries or requires charging, and whether it comes with a charging wire.
Read customer reviews before making a purchase to get an idea of how well the book light operates and whether it is worth the money.
Customize Your Reading Experience with Adjustable Brightness Settings
Brightness settings are a crucial element to consider while picking a book light. A book light with adjustable brightness settings allows you to modify the amount of light you need depending on your reading environment and choice. This can help avoid eye strain and make reading more comfortable.
For example, if you're reading in a well-lit room, you may not require as much light as you would if you were reading in a darker atmosphere. Adjustable brightness settings allow you to alter the light to reach the ideal balance for your requirements.
When shopping for a book light with brightness settings, make important to examine whether it has several degrees of brightness or just an on/off button.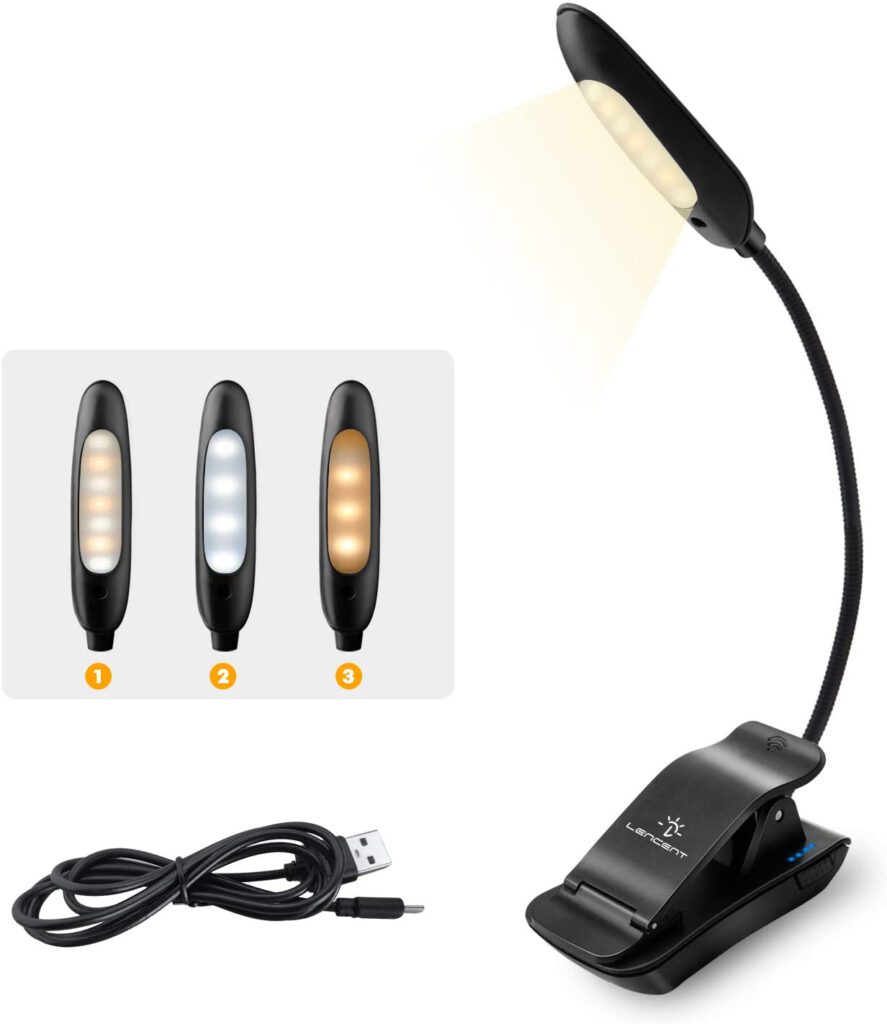 Clip-On, Standing, or Neck Light: Deciding on the Best Type for Your Needs
Consider the following possibilities when deciding which sort of book light is ideal for you:
Clip-on lights: These lights are ideal for attaching to a book or e-reader and are lightweight.  They're a good option if you need a portable light that you can take with you when you travel.
Standing lights: Standing lights are perfect for bedtime reading and don't require a power source. They may be put on a nightstand or other flat surface and offer a continuous light source for reading.
Neck lights: Neck lights are a great alternative for hands-free reading, but they may not be as comfortable to use for extended periods of time. They may be set to shine light on the page or e-reader in front of you, allowing you to read without holding a light.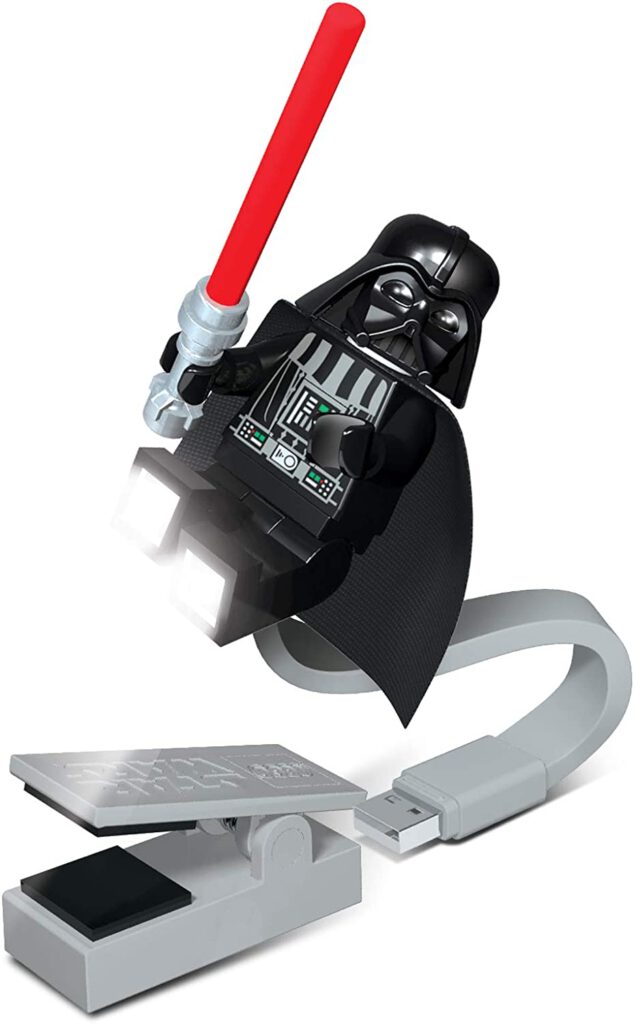 Don't Let Your Light Die Out: Choosing a Book Light with a Long Battery Life
Battery life is an important feature to consider when purchasing a book light. A longer battery life means you won't have to replace the batteries or charge the light as frequently, which is especially useful if you use your book light regularly or intend to take it with you when you travel. When evaluating the battery life of a book light, consider the following factors:
Type of battery: Some book lights utilize changeable batteries, while others are rechargeable. Replaceable batteries are useful if you're on the road and don't have access to a power source, but you'll need to maintain a supply on hand and replace them when they run out. Rechargeable book lights are more ecologically friendly and can save you money in the long run, but you'll need to ensure sure the light is charged before using it.
Charging time: Some book lights may be fully charged in only a few hours, while others may take longer. If you want to use the light frequently, a faster charging time may be preferable.
Battery life: Check the battery life of the book light to discover how long it will last on a single charge or with a set of batteries. Longer battery life is often preferable since it eliminates the need to replace batteries or charge the light as frequently.
Make it Portable: The Importance of Weight in a Book Light
If you intend to carry your book light with you on the move, the weight of the light is an important consideration. A lightweight book light will be easy to transport and will not weigh you down when packed in your suitcase. Here are a few considerations to take in mind when looking at the weight of a book light:
A lightweight book light is more portable and easier to transport when you're on the road. This is especially crucial if you travel frequently or enjoy reading while on the go.
Comfort: A lightweight book light is also more pleasant to use in your hand for extended periods of time. A brighter light may induce wrist and hand tiredness or strain.
Convenience: A lightweight book light is often more convenient to use, as it is easy to place and adjust.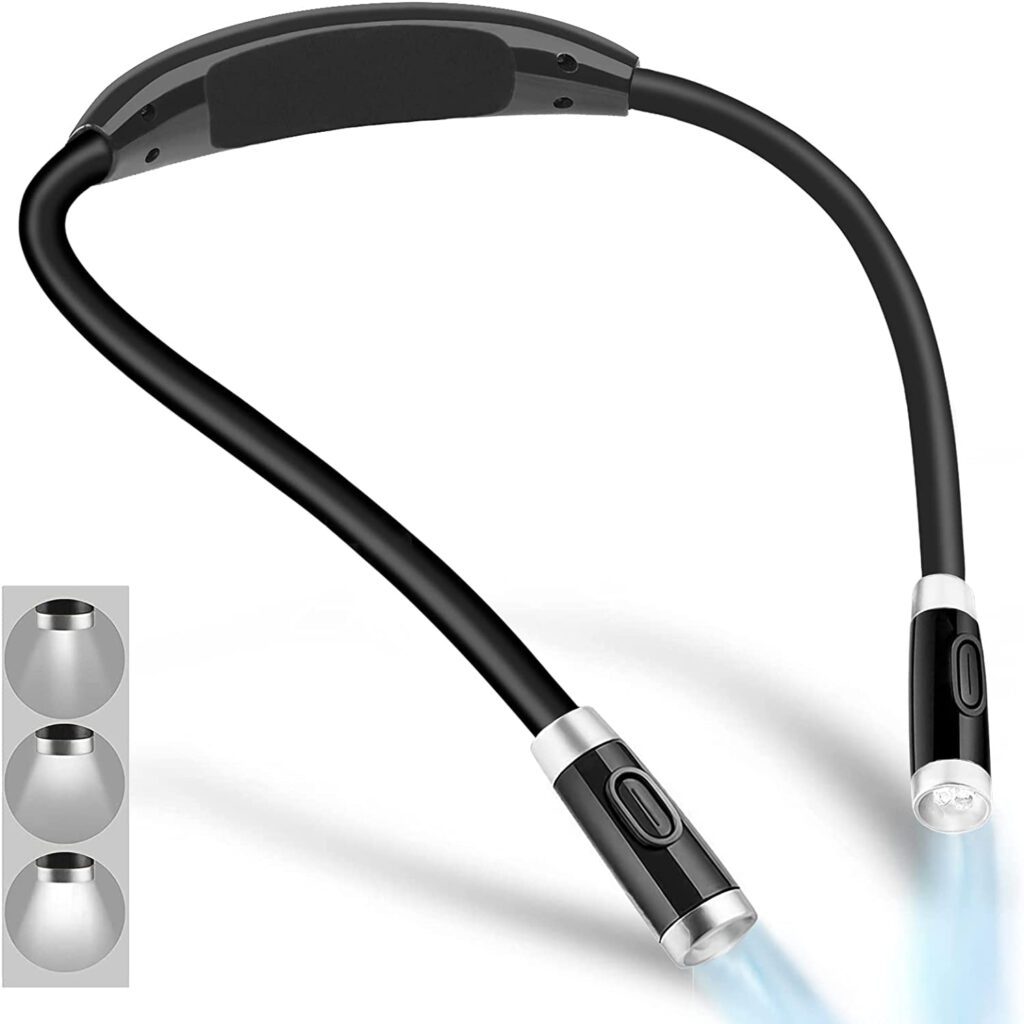 Built to Last: How to Choose a Durable Book Light
When choosing a book light, durability is a key thing to consider. You'll want a well-made lamp that can survive regular usage without readily breaking. A long-lasting book light will provide consistent lighting for reading, making it a good purchase. Consider the following:
Materials: Look for a book light that is composed of high-quality materials, such as durable plastic or metal. These materials are more durable and less prone to break or wear out over time.
Check the structure of the book light to check that it is well-made and durable. To avoid tipping over or falling apart, look for a lamp with a strong base and secure attachments, such as a clip or stand.
Quality: Choose a book light from a recognized company with a track record of manufacturing high-quality items. This can give you piece of mind that the light you select will be sturdy and trustworthy.
Reviews: Read other customers' reviews to get a sense of how well the book light holds up over time. Look for evaluations that emphasize the light's longevity and how well it has stood up to regular use.
Finding the Right Light for Your Budget
When choosing a book light, price is an essential aspect to consider. Determine your budget and seek for a light that fits. Remember that you normally get what you pay for, thus a more expensive lamp may have greater quality and features.
What Other Readers Say: The Importance of Reading Reviews
Reading user reviews will help you determine how well a book light performs and if it is worth the cost. Look for testimonials that indicate the brightness, battery life, and general durability of the light.
Take care to read reviews from consumers with comparable reading habits and needs to your own. If you're searching for a light to use when traveling, for example, check reviews from other travelers to discover how well the light operates in that situation.
Before You Go…
You're now ready to pick the appropriate light for your reading requirements. Whether you're a frequent traveler, a night owl, or simply enjoy curling up with a good book, there's a book light out there for you.
If you are looking a reading light for your child then you need to be extra vigilant with what we discussed above.
If you're a Harry Potter lover, don't miss our post on Harry Potter lamps, which includes some interesting and innovative light alternatives inspired by the renowned books. These lamps are an excellent addition to any Harry Potter fan's collection, and they give a gorgeous and practical option to light up your reading area.
Whichever you choose, enjoy your reading!