Harry Potter Books, Gifts, Merchandise, and Accessories for the Wizard in You
Welcome to the best Harry Potter fan destination! Explore the magical world of Harry Potter and find the most recent books, deluxe editions, gifts, merch and collectibles.
This area is your one-stop shop for everything Harry Potter, from J.K. Rowling's beloved novels to the spellbinding films and beyond. So take your wand and join me as we explore the wizarding realm!
Overview of the Harry Potter Universe
The Harry Potter series is a timeless tale of magic and adventure that has captivated millions of readers worldwide. The books, written by the brilliant J.K. Rowling, follow the young wizard Harry Potter as he discovers his true identity and faces the dark forces of the wizarding world.
The Harry Potter series has been a worldwide sensation since 1997 and has been read by people of all ages. The first book, Harry Potter and the Philosopher's Stone, was published on June 26th 1997. The final book in the series, Harry Potter and the Deathly Hallows, was published on July 21st 2007.
The books have been translated into over 90 languages and have won numerous awards.
Whether you are looking for the books or any other wizardry world accessories for you your kids we have you covered below.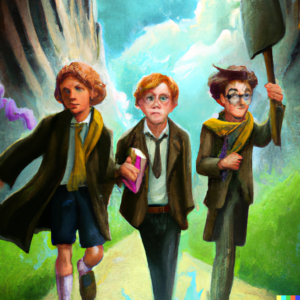 Why You Should Read the Harry Potter Books in Order
If you're not as familiar with the Harry Potter series, we'd recommend starting with the first books – there's a lot of other content too but these give you the full story. The book series starts with "Harry Potter and the Philosopher's Stone". This is a good starting point because it introduces you to the world of Harry Potter and sets up some of the main characters.
The series contains -to date – of seven volumes, each of which builds on the previous one to create a fully formed magical realm full of interesting characters and amazing story twists.
In what order should I read Harry Potter?
If you want to read the Harry Potter series, there are a few different ways to go about it. You can start the series from the beginning and read through in order, you could watch all of the movies before reading them, or you could just pick whichever book sounds like it interest you most. 
I propose the following order though:
Harry Potter and the Philosopher's Stone
Harry Potter and the Chamber of Secrets
Harry Potter and the Prisoner of Azkaban
Harry Potter and the Goblet of Fire
Harry Potter and the Order of the Pheonix
Harry Potter and the Half-Blood Prince
Harry Potter and the Deathly Hallows
J.K. Rowling, and the impact of the books on popular culture.
J.K. Rowling, a British novelist, developed a fully realized magical environment that has enthralled readers of all ages and backgrounds over the course of seven books.
The Harry Potter books had a huge influence on popular culture.
Over 500 million copies of the series have been sold globally, and it has been translated into over 90 languages. The books also spawned a profitable film franchise, a Universal Studios theme park, and a slew of spin-off works.
The Harry Potter novels have been praised for their rich characters and themes, as well as their depiction of oppressed groups and investigation of challenging moral concerns. The novels are credited for inspiring many young people to read and have become a cultural landmark for a generation.
Find all the Harry Potter merchandise you could ever want - collectible books, games, clothes and accessories.
We've divided our proposals for Harry Potter related books, gifts and accessories into seven categories. Click on the category you need help with, or scroll down for a list of all of our articles.
Harry Potter Illustrated and Deluxe Edition Books
If you're a true Potterhead, you might be interested in collecting the Harry Potter deluxe editions. These premium editions have wonderfully designed covers and images, as well as supplementary content such as forewords by J.K. Rowling and more wizarding world information.
The Harry Potter deluxe editions are bigger and more intricately produced than standard editions, and are frequently published in limited quantities.
The whole text of the appropriate novel, as well as supplementary material like as character profiles, maps, and extra drawings, are included in each deluxe version of the Harry Potter books. 
For Harry Potter enthusiasts, collecting the deluxe versions of the novels may be a fun and gratifying hobby. They are a lovely addition to any bookcase and offer a fresh way to experience the wizarding world's charm.
Lego Sets That Make You Want to Build a Full-Size Hogwarts and Play the Whole Series
Harry Potter Table and Desktop Lamps
Harry Potter lamps are a fun and practical way to bring the wizarding world's charm into your house. These lamps are available in a range of forms, with prominent symbols and characters from the series, including as the Hogwarts crest, the Deathly Hallows, and the golden snitch, included.
Harry Potter lamps may serve as beautiful highlights in a child's bedroom or playroom, or as a discreet tribute to the series in a more adult-oriented setting. Some lamps are intended to be wall-mounted, while others are freestanding or tabletop lamps.
Harry Potter mugs are popular among series fans searching for presents or souvenirs. These mugs are available in a variety of forms, with prominent symbols and characters from the books and films, including as the Hogwarts crest, the Golden Snitch, and the Deathly Hallows, included.
Harry Potter mugs may be used for drinking as well as decoration. Some mugs are made to be collector, with elaborate features and high-quality materials, but others are more utilitarian and long-lasting for regular use.
Harry Potter mugs are excellent gifts for series enthusiasts. They are a fun and useful way to show off your Harry Potter fandom, and they are suitable for both youngsters and adults.
Harry Potter fans rejoice! We've got some amazing Harry Potter themed ornament gift ideas, perfect for the holidays.
Whether you're gifting to yourself or know someone else who loves the books, these Harry Potter-themed Christmas tree ornaments are something they will never forget.
How Well Do You Know Harry Potter?
Would you like to know how much you know about the Harry Potter series? We have gathered some of the best Wizarding World quizzes for you to play and find out.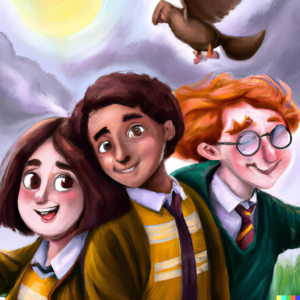 Awesome Harry Potter Movie Quizzes​
Below I have a few Harry Potter Movie Quizzes, the best way to test your knowledge of the movies. Some of those cover all eight movies, so it's important that you watch all of them before you start the quiz. The questions are in no particular order, but in some may get progressively harder as the quiz goes on.
Exciting Harry Potter Book Quizzes​
The Harry Potter Book Quizzes are going to test your knowledge of the books. Check these out:
The Best Harry Potter Houses Quiz Game for the Ultimate Potterhead
Would Gryffindor or Slytherin be more suitable for you? Take this set of Harry Potter house quizzes to find out where the sorting hat would place you! 
The Definitive Harry Potter Quotes List
Anyone who has read the Harry Potter books will be able to agree that the series is filled with some of the most memorable quotes. Whether you're looking for a goofy Ron quote, a motivating Hagrid quote, or an uplifting Dumbledore quote, we've got all your needs covered.
Best Harry Potter Quotes
Below I have a few websites to help you find almost all of the Harry Potter Movie Quotes. The websites are in no particular order.
Harry Potter Quotes (Goodreads)
Harry Potter Quotes About Life, Love, and Loss (teenVogue)
Calling All Wizards! I Solemnly Swear That We've Got the 100 Best Harry Potter Quotes! (Parade)
The Harry Potter Wiki: Everything You Need to Know
As a Harry Potter fun you will always look for more information. The Harry Potter Wiki is a collaborative, user-generated encyclopedia that anyone can edit. It is the largest and most comprehensive wiki about Harry Potter on the internet.
It includes extensive information about the novels, movies, characters, animals, locations, things, spells, and much more. It also includes articles about the series' performers, creators, and producers.
Visitors can even go through extensive family trees that depict the links between the individuals. The wiki also includes fandom-related pages such as fan literature, fan art, and fan groups. The wiki is routinely maintained by volunteers and is an excellent resource for anybody interested in learning more about the Harry Potter universe.
Those wiki resources below cover the entire Harry Potter series, characters, locations, spells and other elements from the universe of J.K Rowling's Wizarding World.
Where is the Harry Potter wiki?
The Harry Potter wiki is an online database of everyone and everything that exists in the Harry Potter series. It was created and is still maintained by a group of volunteer contributors who love the books.
Checkout Fandom and the Harry Potter Lexicon. Additionally there was an older wiki named Pottermore which is now the Wizarding World.
Is there a Harry Potter encyclopedia?
It seems that this project has been postponed or abandoned in favor of Pottermore which is now called Wizarding World.
FAQ
What is the Best Gift for a Harry Potter Fan? ​
A Harry Potter fan is a rare breed. They know their favorite wizard inside and out, their favorite spells, and the best way to get around Hogwarts. They also know that Harry Potter is one of the greatest fantasy stories of all time and that it deserves more than just one movie. That's why we've rounded up the categories of all of our favorite gifts for the ultimate Harry Potter fan in your life.