Disclosure: Your support helps keep the site running! Some of the books or products we recommend contain affiliate links. Learn more.
You may have heard and read articles about Audible Originals. We are going to take a look at this new craze on the web. If you love reading books and driving your imagination to anywhere you can think of.
We assure you that we will make you feel ecstatic to share how this new fad can leisurely captivate you without interrupting the things that you need to do. Let us discover this revolutionary way of enriching your vocabulary while enjoying your time and increasing your exposure to new words all at the same time.
What is Audible?
Audible is an Amazon company and one of the world's leading online providers of audiobooks, spoken word audio products, entertainment, and podcasts. As of date, they are the largest company that produces word entertainment. So, if you are a book lover who loves to binge read, you will be completely captivated with it. They have a gigantic storage of books that you can easily access.
If you are a bit skeptical, you can try their Audible 30-day trial membership and see for yourself how amazing and convenient it is.
Why listen an audiobook?
I will be frank. This is my personal experience. My wife loves to read books. She loves the smell, the subtle sound of turning the page and warm feeling of touching paper. I do to. Though se reads faster than me and she commutes. Me I prefer to listen to a book when I am running or walking outside.
We humans love stories. Listening to a story allows us to glimpse into the mind of the author or storyteller and reflect on our own story. An audiobook is not always perfect but for me its an experience you can't change when you feel first hand.
And this is where Audible Originals come.
What are Audible Originals?
Audible Originals are exclusive, curated titles produced by Audible for ears rather than eyes. They're entirely original content written and produced by leading audiobook producers that you won't find anywhere else. These are stories with a visual element – they can transport you somewhere just as much as a good novel or film.
Audible Originals are exclusive to the service and give listeners a chance to listen in on best selling authors from various genres.
Here are some important key points that you need to know.
5 Reasons to love Audible Originals
You Can Multi-Task and Listen
Even with your buzzing and crazily hectic schedule, you can still slip time finishing one book. Yes, that is so true. What you need is your phone and hit the play button of the audiobook that you like. Afterward, you can continue your gym routine, cook your favorite dishes, take your daily jog, or while you are hustling with your work. It saves you time. If you are reading a hard copy, it will take you more or less three days to finish it. But with this App, it will only take 5 hours or so per audiobook. Amazing, isn't it?
Try an Awesome Subscription Service
You are entitled to one credit per month, and by using it, you can redeem one audiobook. The great thing about it is you can return the audiobook you purchased with no questions asked. Don't over do it though.
How convenient it is for you to access this App even after you cancel your subscription. You can still log in and use the Audible app even after the cancellation of your subscription. The audiobook you downloaded is completely at your disposal.
Some Awesome Audio Narrations and Quality
A few weeks back I listen to Greenlights by Matthew McConaughey. Narrated by… Matthew McConaughey! Another one was Revelation: Connecting with the Sacred in Everyday Life, written and narrated by Russell Brand.
You get my point…
You can enjoy both classic and the latest releases recorded in high quality and professionally produced, and that makes it more exciting to listen. Give yourself a break and listen to these wonderful recordings that are just within your reach. There are authors of bestseller books who narrate their own audiobooks. How great is that!
Easy to Use
You can listen to your audiobooks anytime, anywhere, on any device. The Audible app lets you listen anywhere, anytime—when commuting, exercising, running errands, or just washing dishes!
While listening, you can skip between chapters, change the playback speed, or bookmark and clip important moments from the book. Progress and bookmarks are stored to your Audible account and will transfer between devices.
You could get full access for free and upgrade to premium membership for as little as a single payment. Or pay nothing at all, and enjoy the free shipping and unlimited listening along with all future additions to the collection as they're released.
Both Audible Plus and Audible Premium Plus offer a 30-day trial, but the Premium Plus trial will let you keep at least one book of your choosing.
Authenticity
Authenticity. Selective content. If you're a fan of audiobook storytelling, then the world of Audible Originals is something you should treasure.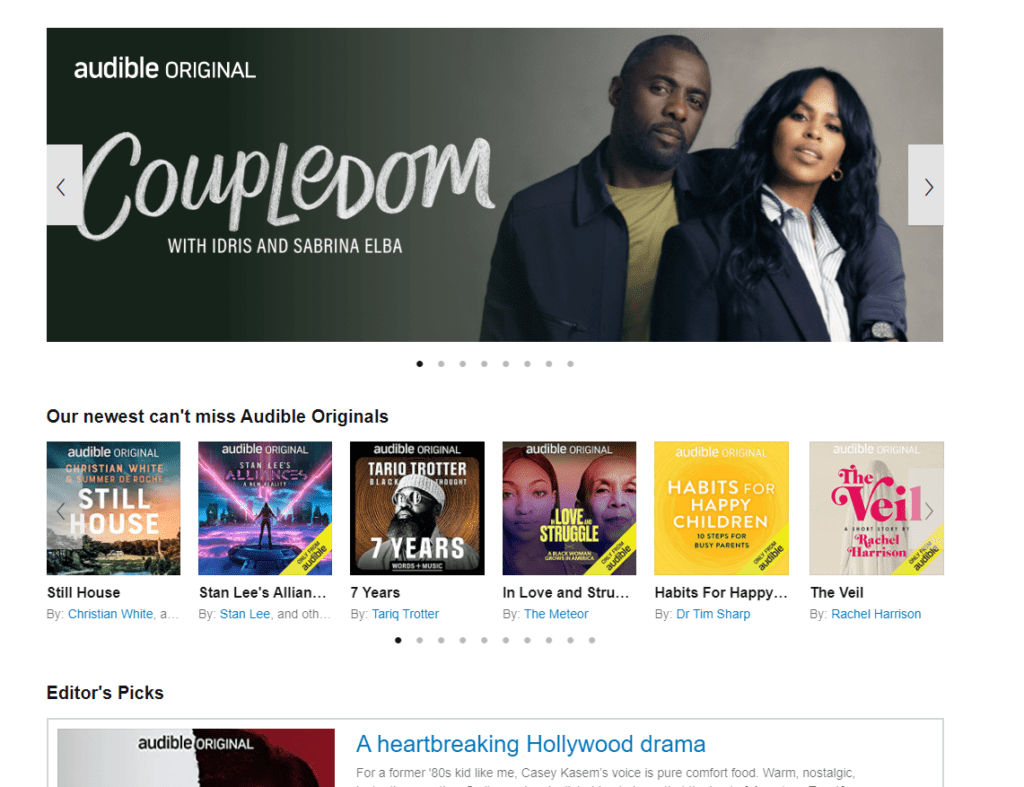 What's Next for you?
According to Seth Godin, "It's not an accident that successful people read more books." In reality, there is no such thing as you are too old or too young to acquire more knowledge and be successful in the end. If you set your mind to anything that you want, you will have it. Do things right for education is a never-ending journey.
With Audible Originals, there are no books that are beyond your reach. There are countless other things that are waiting for you to uncover. The best way to get all of it is to get a subscription today. You can even use for free to use for streaming and downloads, and get an unmatched library with tons of exclusives.